About Me
I have been helping individuals sustain their bodies ever since college, when I worked with an Adapted Aquatics program teaching people with physical challenges how to swim. After earning my BA in Cultural Anthropology at UC Santa Barbara, I worked as a physical therapy assistant for two years. I went on to study at Seattle Massage School, and received my massage therapist license in 1996.
Blending my knowledge of various massage techniques such as Myofascial Release, Lymphatic Drainage and Lomi Lomi with a deep understanding of biomechanics and a love of movement is my passion. I enjoy putting all of the pieces together of this three dimensional jigsaw puzzle we call our body.
As a mom, rower, Ultimate Frisbee player, hiker, business owner and gardener I understand that we live complex lives and that our needs and bodies are ever changing. Sometimes we need massage, stretching or alignment education. Sometimes we need a listening ear; and sometimes, we need a quiet place to relax.
About My Practice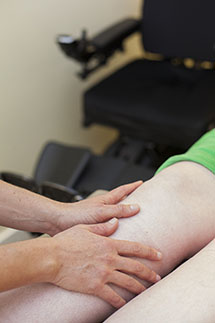 My studio is open to people of any age, ethnicity and ability. I welcome folks on the LGBTQ and gender identity spectrum as well as individuals with complex health issues such as:
auto-immune diseases
cancer
chronic inflammation
fibromyalgia
multiple sclerosis, etc…
I also work with athletes in training, pregnant women, teens and those who just need relaxation. My goal is to have a practice of inclusion and adaptability where creative thinking combined with scientific training leads to problem solving.
Except for the bathroom, my studio is wheelchair accessible.
Here's to your health,
Lesley